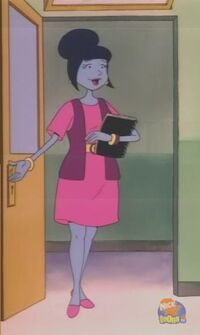 Ms. Cecelia Newberry is a substitute teacher at the Bluffington School. She substituted for the vacationing Mrs. Wingo who at that time was tending to her family. When she first came in, all the boy students fell in love, including Roger. During her week on the job Ms. Newberry had to deal with Doug's alleged bad behavior; but she knows that deep down inside that Doug really is a good kid.
Ad blocker interference detected!
Wikia is a free-to-use site that makes money from advertising. We have a modified experience for viewers using ad blockers

Wikia is not accessible if you've made further modifications. Remove the custom ad blocker rule(s) and the page will load as expected.