Doug Live!
Talk

0
78pages on
this wiki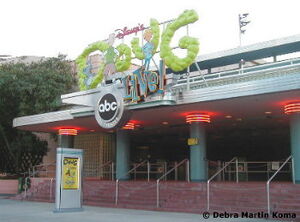 Doug: Live! is a stage show based on Disney's Doug that ran from March 15, 1999 to May 12, 2001 at Disney's Hollywood Studios (at the time known as Disney MGM Studios) at the Walt Disney World Resort.
Synopsis
The show opens with Doug writing in his journal, and attempting to wax nostalgic with Porkchop about when they originally arrived in Bluffington as part of the witness protection program. Porkchop doesn't seem to remember, though it is likely that Doug is simply projecting his unrequited need to have someone listen to him on to his dog who in reality neither understands or cares about what Doug is saying, so Doug breaks into song about the address he lives at. After a non-sequitor where the cast of Doug appear, Skeeter breaks into Doug's house to alert Doug about their favorite band, the Beets, reforming (again). Doug enters a convenient contest on the radio to win two tickets for the just announced farewell concert and, after unintentionally answering a trivia question correctly, does. Skeeter convinces Doug to give the second ticket to Patti rather than to him, as missing the bi-monthly farewell concert is worth it if it means he doesn't have to be anywhere near Doug, and leaves Doug's house as quickly as he entered. At school the next day, Patti congratulates Doug on winning the contest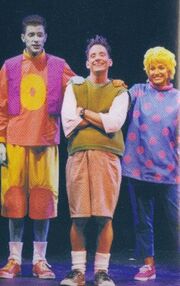 and Doug attempts to woo Patti using "The Really Big Book of Dating" and offer her the chance of accompanying him to the concert, but cracks under the pressure and misleads her into beliveing he is a homosexual by telling Patti he is asking Skeeter to the concert. Suddenly, Roger Klotz enters from the men's room and offers Patti his own second ticket to Patti, which she accepts. Both leave, and Doug gives the tickets to Skeeter, informing him he wants to be left alone in the locker room with his feelings. Doug, his psyche shattering, is assailed by fantasies of his peers mocking him. His mind finally destroyed, he calls out for Quailman's assistance. Quaildog enters from the shadowy mass that has devoured Doug, and hands him Quailman's outfit. Becoming Quailman, Doug receives a Quail-call from Patti Mayonnaise, who has been captured by Dr. Rubbersuit. Rubbersuit is only using Patti to lure Quailman into a trap wherein he'll force him to wear his "Cosmic Thingee" (actually a bike helmet covered in christmas lights), a device which will rob Quailman of all his self-esteem and give it to Rubbersuit. Quailman arrives, but is caught offguard by Rubbersuit when he notices his shoelace is untied, and has the Cosmic Thingee put on his head. Quailman is assailed by automated insults from the thingee, and now even Doug's imaginary persona has his psyche rent asunder. The imaginary Quailman must now adopt his imaginary imaginary persona, Smash Adams, super spy. This tactic fails stupendously. Patti tries to convince Quailman to be himself, but Rubbersuit increases the power of the Cosmic Thingee to the "Mindless Taunting" level. Quaildog then begins to communicate psychically with Quailman, also telling him to be himself. Patti and Quaildog tell Quailman he's special to get him out of his funk, and are joined by both the announcer and an unfortunate audience member forced to wear a Quailman costume, referred to as "Quailkid", help in perpetuating this lie. The audience are also forced to assist in this charade, while Quaildog and Quailkid set the Cosmic Thingee to "UH-OH", destroying it. Doug's self-destructing fantasy is now shattered, and he returns to the real world, where he is joined by Skeeter as he is heading to the concert, Skeeter choosing to forgive Doug for his past transgressions. At the concert, Roger gets on stage and is escorted off by security, later being imprisoned for life. Afterwards, Doug tries to confess to Patti, but its pointless as Patti has already decided she is running his life, and tells him they're going skating. Doug breaks into song about his new life of being whipped, and the show comes to a close.
Trivia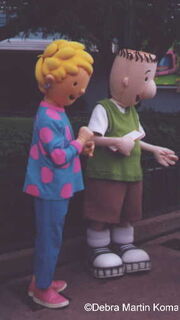 - "The Really Big Book of Dating" was actually a history book with a false cover.
- Ironically, the actor playing Doug had to wear a wig.
- In the scenes where it was opened to be referenced from, "The Really Big Book of Dating" always seemed to open up to the same page. This meant that quite often, Doug and Skeeter were looking at pictures of Holocaust victims during this section.
- Both Skeeter and Roger had to have make-up to replicate their skin tones from the series. The actress playing Patti was naturally bright orange however.