Lardy the Fat Cell
Talk

0
67pages on
this wiki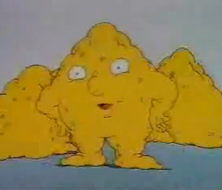 "Stay tuned for a commercial that looks like a documentary."
Lardy the Fat Cell is the mascot of the Waist Away dieting kit, and the sinister creation of heartless executives. In addition to this, he is also one of Bluffington's most respected health experts.
Background
Lardy's sole purpose is to hawk the Waist Away hyper-diet product line. Lardy is a highly-advanced CGI creation whose performance is motion captured, though his incredibly realistic fatty textures have led many people to mistake him for a man in a suit, or even real. So successful is Lardy, its been noted that even seeing Lardy has been known to immediately induce bulimia in subjects. His image now adorns everything from lunch boxes to sneakers, serving as an ever-present reminder that you could stand to lose a few pounds.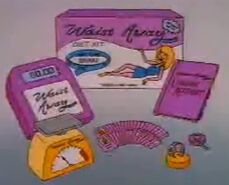 Patti Mayonnaise's battle with anorexia
Lardy is notably responsible for being one of the causes of Patti's Mayonnaise's self-image problems. Patti was also subjected to clever name calling by her closest friends, including such classics as: "Fatty Mayonnaise", "Fatty Mayobese", "Patti Hold the Mayonnaise Because I'm Too Fat", "New Connie" and "Patti so fat she could only date Doug" (This one being suggested by Doug. It didn't really catch on). Patti's attempts to decry the Lardy commericals were also met with reproach, and she was shot down by equally witty quips such as "Sorry Patti, I couldn't hear you over all the FAT". Patti's self esteem never recovered.