Mr. Dink
Talk

0
78pages on
this wiki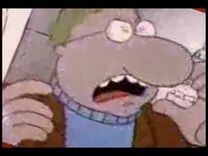 "Hello Douglas!"
Background
Edit
Bud Dink is a middle-aged man who is a friend to Doug, often talking with him about any subject that may be on his, or Doug's, mind. Bud, or Mr. Dink as he's better known, enjoys investing in expensive new inventions and gadgets for use in his leisure time. Bud is married to his long-suffering wife, Tippingdale Dink, more commonly referred to as Tippy. The two met in high school. They went to senior prom together, which resulted in a trip to the ER for Tippy.
Mr. Dink's custom grill, produced with a likeness of himself adorning it, became the victim of an unprovoked hate attack. The perpetrator still remains at large, and the Dinks can no longer sleep soundly knowing that the kind of monster who could do such a thing is still allowed to walk the streets.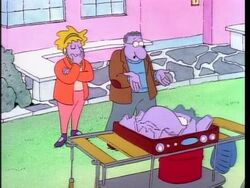 Very expensive!
YOU BROKE MY GRILL?
Theories
Edit
In the Nick series, it could be argued that Mr. Dink may not actually exist. The only character to interact with Mr. Dink is Doug, leading to the possibility that Dink may merely be a delusion born from the trauma associated with not having a true father figure to look up to, Doug's father being too preoccupied with proper kite construction and maintaining a possible job. Of course this wouldnt explain having a wife that is mayor of the town, or when many others have interacted with him.